THE WHITE DUNE OF PŪRCIEMS
State owned forests stretch between the road and the sea from around Kaltene to the border of Slītere National park. The most protected site in this section of the seashore is the 20 metre high White Dune of Pūrciems, about five hundred meters from the sea. It was formed 6000 years ago. The dune is incomparably older than the current dunes shaped by the sea.
Entrace fee: free of charge
Location: Pūrciems, Roja region
More information:
Phone: 63269594
E-mail: rojatic@inbox.lv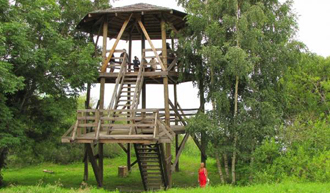 Kaltene Stony Beach and Bird Watching Tower
An attractive stony seacoast with boulders, dune pines, and beautiful scenery. Here one finds unique landforms shaped by ancient Littorina Sea coast, namely, depositions rich in the remains of the Littorina era molluscs.
When walking along the 800 m long Kaltene Nature Trail, you will find out many interesting things about the birds which are native to Latvia, and about the migrating species. The trail includes two viewing platforms and a tower for watching birds all year round. The best season for visiting the Kaltene Nature Trail is spring and late summer, but it is worth doing this also in winter, unless the sea has been frozen over. The platforms and the tower offer 'guide posters', which allows beginner bird watchers to identify birds and enjoy this unique site. The route takes about half a day to cover.
Entrace fee: free of charge
Location: Kaltene, Roja region
More information:
Tel.: 63269594
E-pasts: rojatic@inbox.lv

Nature monument "Kaltenes kalvas"
The kalvas of Kaltene is a national-scale protected natural monument, and in 2006 special trails were laid out for viewing those unique formations. Travellers can choose between a shorter or a longer walk: the shortest loop trail stretches for about 800 m, but the longest – for 1.5 km. The tallest kalva, called the Devil's Kalva, once rose as high as treetops, but was fully demolished in 1960-70s in order to obtain stone chips for road building. Only a small lower part of the kalva, 300 m in length and 2 m high, has survived. The Kārdūži Kalva, for its part, has been preserved intact: it is a 1 km long, 50 m wide, and 1.5 m – 2.5 m high, slightly winding ridge of boulders. People believe that in the ancient times kalvas were sacred sites, and thus a number of tales and legends about them are still alive these days.
Entrace fee: free of charge
Location: Kaltene, Roja region
More information:
Tel.: 63269594
E-pasts: rojatic@inbox.lv